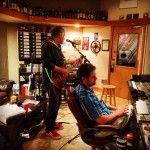 Hitting the Studio Again!!!
I'm going into the studio again April 17th and 18th (2019) in order to continue the long process of finishing my solo album.
Tentatively titled "When the Giants Fell", the album will hopefully be out end of 2019 or early 2020!  The plan is to complete 4 tracks including the title song!
Joining me will be Eric Rosander, from the "Ain't Got No Time (Rock and Blues) Band" on bass...as well as Chris Amarall, the drummer from the band "The Nickel Slots" and "Cretins Castle".  
Rehearsals have gone exceptionally well...expect updates as they come!